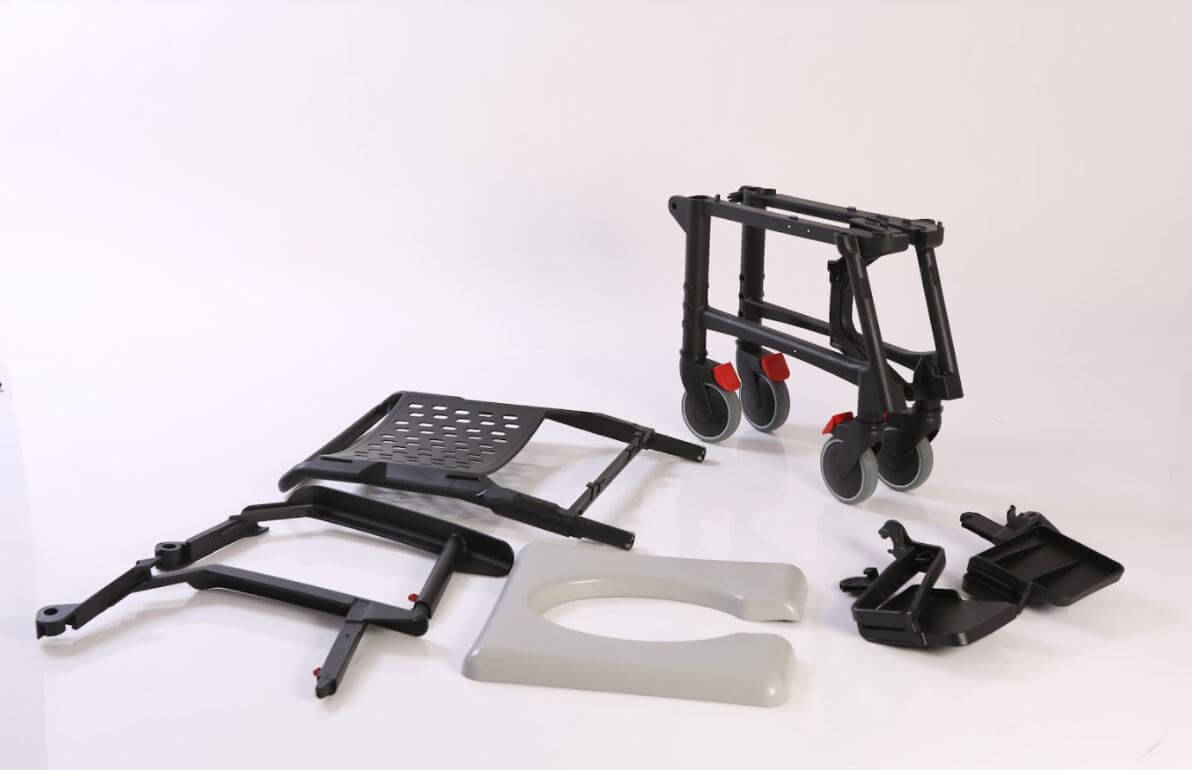 With years of experience in the design of assistive devices for older people and people with disabilities; we have listened to what you require from a toilet and shower chair and understand that it needs to be practical and simple to care for.
We have brought our world class mechanical engineering innovation and ingenuity to develop a flexible, practical solution.
Looking after the BathMobile will help it remain in good condition and last longer. Read more about how our design makes caring for your product easy.
It's Modular
Why does a modular system help you? It means it can rapidly be taken apart into individual parts. No tools are necessary. 
It's easy to clean
The modular system makes the BathMobile quick to wash and dry, enabling easy access to corners and underside of individual parts. 
If the BathMobile is used in a healthcare setting, the individual parts can be placed in an autoclave for sterilising.
It's quick to take apart and put back together
With no need for tools, the Bath Mobile modular system can be put back together in a few clicks! 
The BathMobile shower chair folds easily for storage in a dry location, ready for the next use
Shower and toilet chairs should be cleaned and wiped down regularly with a cloth and gentle cleaning product.
The toilet pan should be cleaned with soap after every use
The shower chair should be wiped dry with a cloth after every use
The bathroom is a challenging environment for homecare products. Humidity, moisture, water, cleaning agents and urine; all present challenges for the condition of a product. 
So why is the BathMobile toilet commode and shower chair equipped to do so well in the bathroom environment?
Challenge

Advantages of plastic for homecare products

Bathroom environment

Bathrooms are often humid places and moisture is released into the air by something as simple as taking a shower. Ventilation helps reduce this but homecare products need to be resistant to potential damage from moisture, mould and water. 

The BathMobile toilet commode and shower chair is made from high quality plastics with stainless steel fasteners, resistant to moisture and water damage.

Urine damage

Accidental leaks of urine can occur when a person has difficulty unfastening, or removing their clothing in time to use a toilet commode chair. Urine is corrosive to homecare product materials but plastic is corrosion resistant, making it a great choice for homecare products.
Utilising the advantages of modern plastics, our products are;
strong and light weight
durable
resistant to mould and corrosion with
smooth, easy wipe surfaces for minimum maintenance.
The BathMobile combines the function of a folding shower and toilet chair with wheels, with the benefits of plastic; to offer you the best in toilet and shower chair solutions.