Our Wheelable and BathMobile commode and shower chair solutions are designed with mobility in mind. Whether you are looking for the choice to self-propel or easy mobility with caregiver assistance, we have commode and shower chair options for you.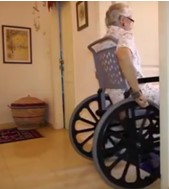 The Wheelable shower chair is mobile, with large propelling wheels, foot support, and rear castor wheels for a smooth ride. The large propelling wheels and brakes support personal independence and privacy when using the bathroom.
Both the Wheelable and BathMobile are great for caregivers too; making it easy to move from one room to another for bathing or toileting. The BathMobile has individual foot applied brakes on each wheel for easy caregiver access.
Once in the bathroom, the Wheelable and BathMobile shower chair can be positioned where needed for access to the shower. The armrests can assist when sitting down or standing up and fold away if not required. The compact design of armrests and footrest position allow closer positioning to the sink, improving comfort and access.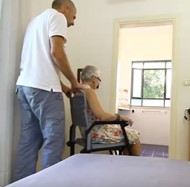 The Wheelable and BathMobile toilet and shower chair are easy to use in a shared bathroom and can quickly and simply be wheeled in and out of position. If space is limited, the BathMobile and Wheelable can rapidly fold into a corner of the bathroom when not in use, minimizing space needed for storage. In a few seconds, it can be back in position when needed!
Designed to give you mobility with flexibility, the Wheelable and BathMobile can offer a dual-purpose shower chair that simply converts into a portable toilet commode by changing the seat; two products in one simple, compact, portable design.
We offer accessories including:
• padded seat and backrest options for skin protection
• removable pan options
• a shower holder attachment to give more control whilst bathing
• a wheeled carry case for portability by car, train, bus, or plane!
The Wheelable and BathMobile bring together the function of a folding shower and toilet chair with wheels, with the benefits of plastic; to offer you the best in toilet and shower chair solutions.
Built from high quality plastic with stainless steel fasteners, the Wheelable and BathMobile toilet and shower chair excel as homecare products. Utilizing the advantages of modern plastics, our products are:
• strong and light weight
• durable
• resistant to mould and corrosion
• with smooth, easy wipe surfaces for minimum maintenance
Designed for long-term, carefree usage to give you freedom, spontaneity, and confidence for a better life.