Travel Shower Chair And Travel Commode Chair
The Wheelable is a foldable commode and shower chair that allows easy access to places that are not accessible to people with a mobility problem.
The Wheelable enters most bathrooms and nearly all existing toilets, thanks to its perceptive design allowing a maneuvering range of approximately 70 cm. where a regular wheelchair needs a range of 120 cm.
The only chair that can be folded using only one hand, even by the user himself while sitting in his wheelchair. When folded the product can be easily carried around in its specially designed suitcase and is allowed on flights without additional cost for weight.
The Wheelable folds into one single unit and fits any luggage compartment. The chair is made of waterproof material and designed to enable fast cleaning and drying.
The product is extremely suitable for people with a mobility problem that want to enjoy the freedom to relax and explore new places, to spend longer periods of time with friends and family and to participate more significantly in holidays and family events.
The Wheelable can be equipped with a special bedpan converting the chair into an accessible mobile toilet as a solution in extreme situations like a stuck car or a building without a bathroom.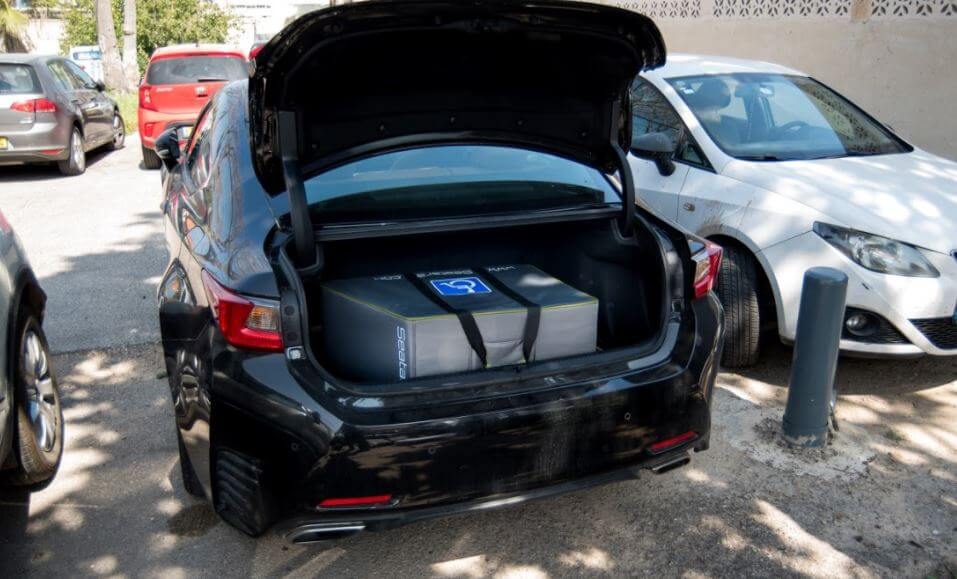 The Wheelable can pass a 50 cm. wide door, making it a one of a kind transfer chair.
The Wheelable foldable and shower wheelchair gives people with a mobility problem the freedom to travel without worries to new places, to try hotels they never visited and provides a solution when the room is poorly accessible or inaccessible at all. Folded the chair can be kept in the trunk of the car, thus enabling availability and spontaneity when it comes to spending longer time away from home or visiting new places. The chair gives a new sense of confidence to those who love to travel in the country and abroad.